Anuradhapura
A city found by Prince Pandukabhaya in 380 BC is known as the oldest city in Sri Lanka. It was the capital of Sri Lanka for about 1400 years and currently declared as a UNESCO world heritage site.
It was during the reign of King Devanampiyatissa (247 -207 BC) that Arhat Mahinda and his followers came to Sri Lanka with the introduction to Buddhism. Anuradhapura is home to the sacred Jaya Sri Maha Bodhi which is the world's oldest historically authenticated tree (about2, 250 years). It was a sapling from the Sri Maha Bodhi in Bodh Gaya in India where Gautama Buddha attained enlightenment. This tree was brought to Sri Lanka by Ven.  Sangamitta Therini, daughter of Asoka (a great emperor of India). King Devanampiyatissa gave a special place for it to be planted in his gorgeous royal park, Maha Meghavana Udyanaya.
Along with the Sacred Bodhi tree is the enormous Ruwanweliseya Dagoba. It is a 55-metre tall (assumed to be taller originally) and 370 feet circumference bubble shaped dagoba built by King Dutugemunu in 2nd century BCE. This is the greatest masterpiece of King Dutugemunu making it the third largest stupa in Sri Lanka and the focal point of Maha vihara, the first monastery of Sri Lanka. After the death of King Dutugemunu some renovations had been done by a succession of Sinhalese kings till King Nissanka Malla.
Between the sacred Jaya Sri Maha Bodhi and Ruwanweliseya stupa is another unbelievable creation of history, Lovamahapaya (Brazen Place). A building with a gleaming bronze roof and 1600 stone pillars in 40 clean rows. It is assumed that this building was 150 feet tall; nine storey building that would accommodate 1000 monks. This was done by King Dutugemunu more than 2000 years ago.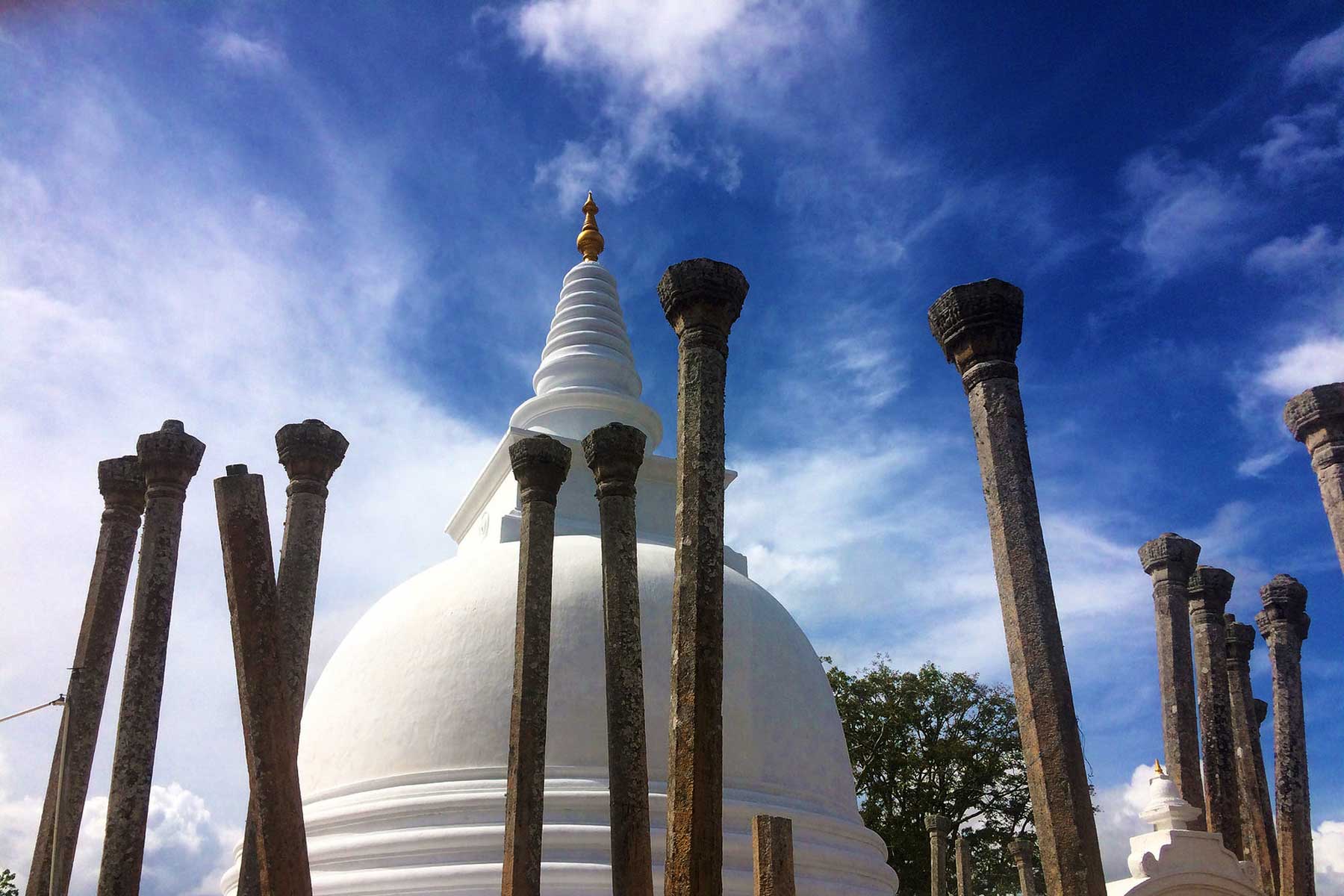 Likewise Anuradhapura is more famous for the Avukana Buddha image erected during the reign of King Dhatusena in the 5th century AD. This is a standing image of Buddha, more than 40 feet tall, carved into a large granite rock. This magnificent Avukana Buddha attracts glimpses with its neatness and exactness, clearly depicting the skillful ancestors of Sri Lanka.
Another place spoken when mentioning Anuradhapura is another carved slab of granite of the Isurumuniya Lovers, located near the Tisa Wewa. It is an elegant carving representing King Dutugemunu's Son and his non-royal consort Asokamala. It's a sixth century Gupta Dynasty style carving.
Jetavanarama Stupa built by King Mahasena (273-301AD) is the largest stupa in Sri Lanka, enshrining a part of sash or belt worn by Buddha (only a prediction).  This is the largest brick building and the third largest ancient structure after the great pyramids of Giza. It is currently 70m high, originally must have been at least 100m.
Since Anuradhapura is a city with a deep history, it is home to plenty of unmentioned, mind-wondering chronicles that one should experience by their own eyes. Places like Samadhi Buddha image, Kuttam Pokuna (twin ponds), Royal Pleasure Gardens, Isurumuniya Vihara, and Abhayagiriya are some of these chronicles that one should not miss in Anuradhapura.
A visit to the ancient royal capital Anuradhapura is a must to experience the great heritage of Sri Lanka.